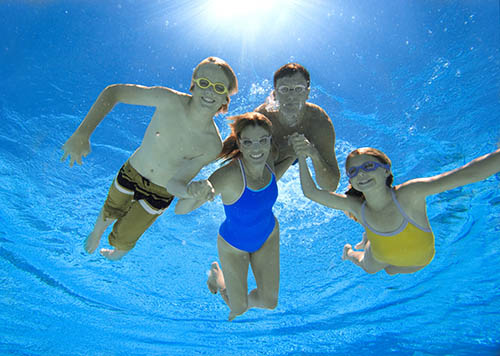 We keep you
cool

in the summer!
Get wet and have some fun with your own swimming pool!
Our above ground pools are the finest in the world. We have a wide selection of shapes and sizes to fit any backyard situation. We can also assist you in designing and selecting the landscaping and decking options that would best suit your needs. We carry a full line of pool accessories so that you will get the most fun from your new pool!
A Doughboy above-ground pool allows your family to experience the best in backyard fun and recreation, all in the comfort of your own backyard.


With Doughboy's exciting variety of decorative wall patterns and pool sizes, you'll easily find a pool that matches perfectly with your family's unique style.
Whether you enjoy an invigorating swim, or relaxing by the pool is more your thing, a Doughboy pool becomes your passport to many wonderful vacations at home.
Read our safety manual and follow our six safety steps. It can save lives in and around Doughboy swimming pools.
Play it safe with the 6 rules of pool safety!
S

wim and wade only. Never dive, jump or slide into the pool! Serious injuries could result from avoiding this rule. Paralysis and death could occur.

A

dult supervision is always required! An adult must control the activity of children swimming or playing around the pool area. No one should be permitted to swim alone. Even good swimmers can drown in a crisis.

F

irst-time users run the highest risk of injury! Teach the rules of pool safety to all users. Actively direct attention to the "warning" pool sign before allowing them to enter the pool.

E

lectricity and water are a fatal mix! Keep all electrical radios, speakers and other appliances away from the swimming pool.

T

easing, roughhousing and horseplay do not belong in the pool area! Do not allow anyone to climb, sit or stand on the top rails of the pool. Play safe games. Be courteous and careful.

Y

ou should not permit alcohol or drugs at your pool. Keep anyone who is under the influence away from the pool area.
Share S-A-F-E-T-Y with family and friends. Teach young children the 6 rules of pool safety immediately!
Shallow is when the water is under your chin. Deep is when the water is over your head.
Always think "safety first" and share your wisdom!